Fortune and Great Place to Work® name Freed Associates one of the 2022 Best Small Workplaces™, Ranking #95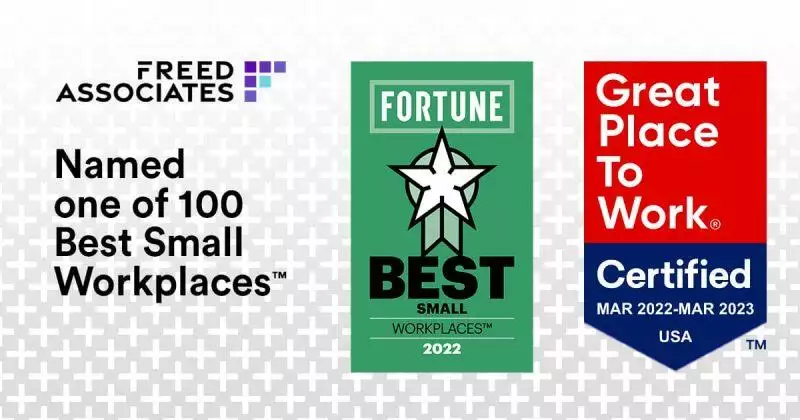 Press Release
We are honored to be recognized by Fortune magazine and Great Place to Work® as one of the 2022 Best Small Workplaces.
California — Great Place to Work® and Fortune magazine have honored Freed Associates as one of the 2022 Best Small Workplaces. This is Freed Associates' first time participating in the Great Place to Work survey and being named to this prestigious list, coming in at 95th. Earning a spot means that Freed Associates is a top company to work for in the country.
To determine the Best Small Workplaces list, Great Place to Work analyzed the survey responses of over 30,000 employees from Great Place to Work-Certified™ companies with 10 to 99 U.S. employees. In that survey's responses, 100% of employees said Freed Associates is a great place to work, compared to 57% of employees at the average U.S. company.
"Our smart, capable, caring, and dedicated employees make Freed Associates a great place to work."  Said Dava Freed, Founder and CEO "I have worked hard to build a consultancy with a collaborative culture where everyone is supported and valued. I strongly believe that if you take care of your employees, they will take care of your clients. We celebrate and thank our extraordinary team for all they do to earn this incredible honor."
The Best Small Workplaces list is highly competitive. Great Place to Work is the only company culture award in America that selects winners based on how fairly employees are treated. Companies are assessed on how well they are creating a great employee experience that cuts across race, gender, age, disability status, or any aspect of who employees are or what their role is.
"It's not the size of an organization that makes it great, but how the organization treats its people," says Michael C. Bush, CEO of Great Place to Work. "And these small workplaces have proven that the inspiring cultures they've created go head-to-head with those of any large corporation. Leaders at these companies put their people first, and in return, achieve stronger business results than the average workplace."
About Freed Associates
Freed Associates is a certified woman-owned, specialty management consulting firm working exclusively in healthcare for 31 years. We work with healthcare organizations to provide strategic and operational consulting. Our solutions focus on Technology Advancement, Digital Experience, Operational Transformation, and Revenue Optimization. Freed specializes in partnering with clients on difficult initiatives to successfully produce high quality outcomes that meet the specific goals of the client and their organization. Our team of hands-on consultants bring significant healthcare experience and the ability to smoothly navigate organizational complexity. We are passionate about making a positive impact on healthcare and improving quality, access, and equity.
About the Best Small Workplaces™
Great Place to Work selected the Best Small Workplaces by analyzing the survey responses of over 30,000 employees from Great Place to Work-Certified™ companies with 10 to 99 U.S. employees.  Company rankings are derived from 60 employee experience questions within the Great Place to Work Trust Index™ survey. Great Place to Work determines its lists using its proprietary For All methodology to evaluate and certify thousands of organizations in America's largest ongoing annual workforce study, based on over 1 million survey responses and data from companies representing more than 6.1 million employees, this year alone. Read the full methodology.
To get on this list next year, start here.
About Great Place to Work®
Great Place to Work is the global authority on workplace culture. Since 1992, it has surveyed more than 100 million employees worldwide and used those deep insights to define what makes a great workplace: trust. Its employee survey platform empowers leaders with the feedback, real-time reporting and insights they need to make data-driven people decisions. Everything it does is driven by the mission to build a better world by helping every organization become a great place to work For All™.
Learn more at greatplacetowork.com and on LinkedIn, Twitter, Facebook and Instagram.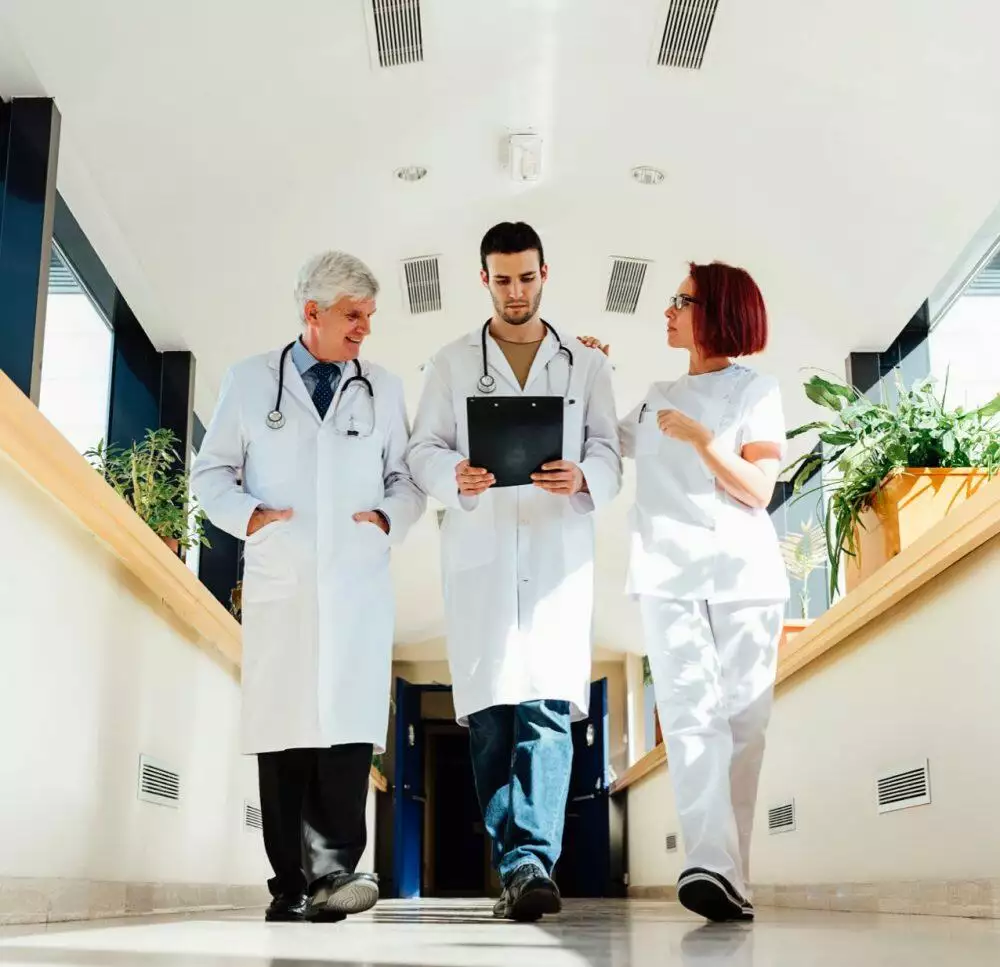 Newsletter Signup
Sign up for our Quarterly Freed Associates newsletter to get news and insights from the front lines of healthcare sent straight to your inbox. Enter your email now for perspectives from top leaders in California's largest healthcare provider and payer organizations, as well as reporting and guidance from our experienced consultants.
Follow us on LinkedIn